While going through the Remote Proctor Interview, if you are unable to click the Allow or Remember button on the Flash Settings prompt, please try the steps below.
Method 1
Confirm that the device you are using is supported. You can check the System Requirements for a list of the supported Operating Systems and Devices.
Tablets, 2 in 1 devices, Chromebooks, etc.. are not supported.
Method 2
1. Open Control Panel and select Flash Player Settings
2. Select the "Camera and Microphone" Tab
3. Select "Camera and Microphone Settings by Site" button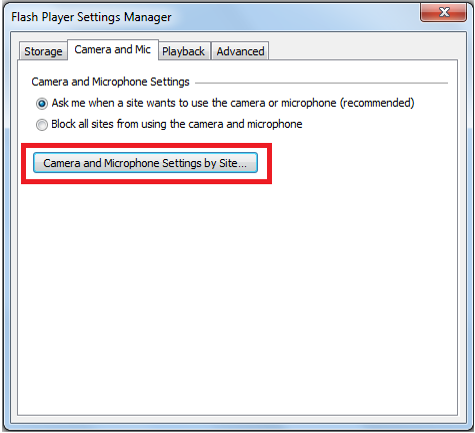 4. Click on www.remoteproctor.com and change the drop down to "Allow"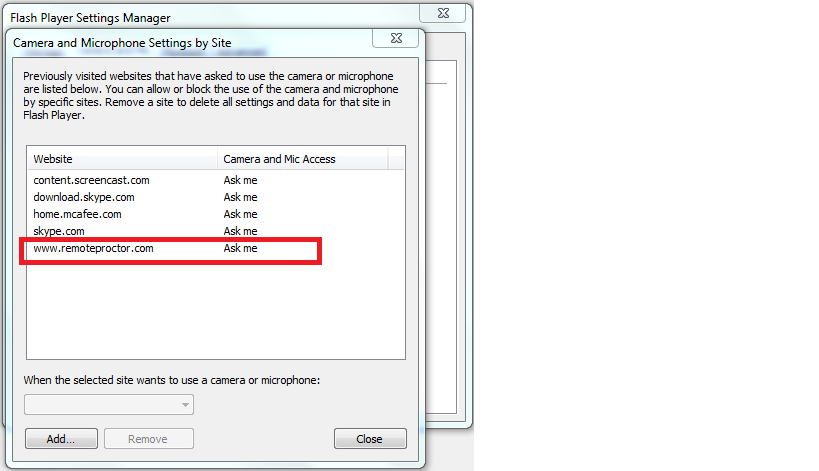 5. Close and restart your browser window to make sure the changes take effect
6. Retry the RPNow software. On the Camera Setup Page be sure to click Continue.
If you continue to experience issues after following the steps above, please continue to Method 3 below.
Method 3
1. Open the following Directory: C:\Users\<<username>>\AppData\Local\Apps
2. Delete the "2.0" folder
3. Disable any Anti-Virus/Firewall program installed on your machine.
4. Attempt to access your exam by going through the steps and downloading the Remote Proctor software
5. Locate the Setup.exe file that was downloaded. This is normally in the "Downloads Folder"
6. Right-click it and select "Run as Administrator"
7. Continue to exam
AAT / ZAAT Need to have Adobe for their exam
If you have any further problems please Contact Us.
Thank you,
PSI Support