If you are using a macOS device and receive the error "Remote Proctor Now is damaged and can't be opened you should eject the disk image"", please follow the steps in the Solution to solve your issue.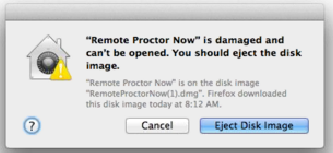 Solution:
Select the Apple Icon
Select "Systems Preferences"
Select "Security & Privacy"
Select "Anywhere" Under "Allow Applications Downloaded from:" (see Screenshot below)
Click the Lock in the lower left corner to save the changes and close the Security & Privacy window
You should now be able to launch RPNow Secure Browser without any errors. If you have any further issues please feel free to Contact Us.
Thank you,
PSI Support